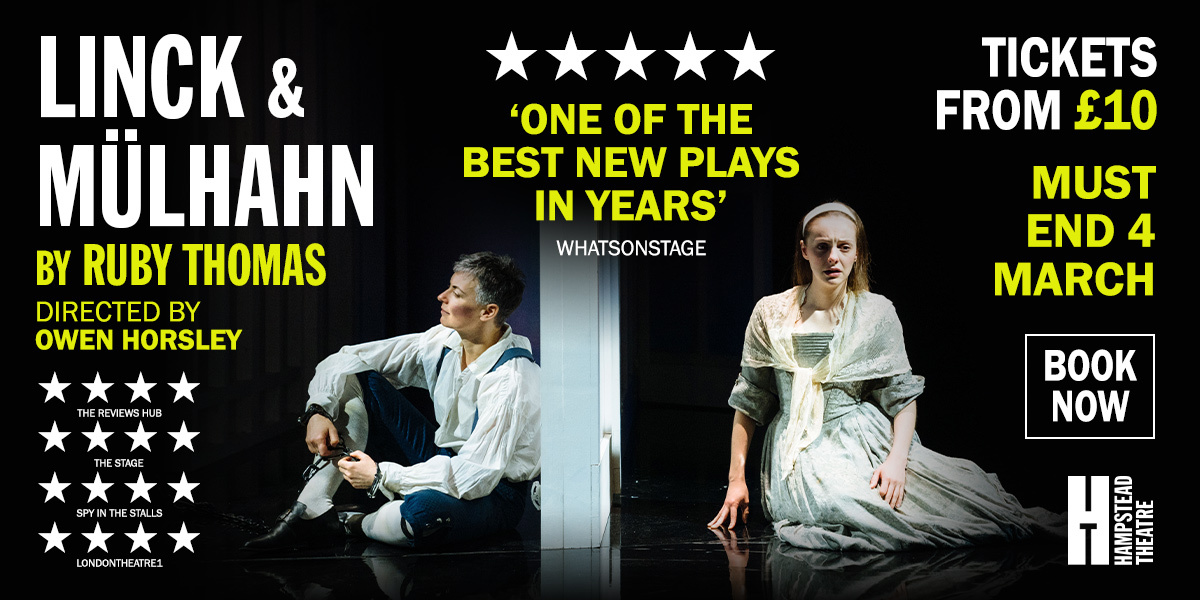 Hampstead Theatre, London
Based on true court records, the love story Linck & Mülhahn comes to Hampstead Theatre!
Prussia, 1720. Dashing musketeer and skilled seducer Anastasius Linck has no intention of falling in love. But when he meets passionate young Catharina Mülhahn, so strong is the attraction that the match becomes inevitable. As the couple strive to build a radical kind of marriage, Catharina's mother becomes obsessed with her mysterious son-in-law and sets out to uncover his secret - a secret that, if revealed, threatens to engulf them all…
Ruby Thomas' epic and playful modern love story takes eighteenth century court records as its starting point. It follows her two sell out successes for Hampstead Downstairs: 2022's The Animal Kingdom ('pure theatre' – The Guardian) and 2019's Either ('marks Ruby Thomas out as a daring and exciting new voice' – The Arts Desk).
Owen Horsley directs at Hampstead for the first time; his credits for the RSC include the recent double bill of Rebellion and Wars of the Roses as well as Maydays and Salomé.
Maggie Bain (Man to Man, Wales Millennium Centre; Henry V, Shakespeare's Rose Theatre) plays the role of Anastasius Linck with Helena Wilson (Jack Absolute Flies Again, National Theatre; The Lady from the Sea, Donmar) playing the role of Catharina Mülhahn and Lucy Black (The Durrells, ITV; The Haystack, Hampstead Theatre) playing Mother. They will be joined by Daniel Abbott, David Carr, Marty Cruickshank, Kammy Darweish, Qasim Mahmood, Leigh Quinn and Timothy Speyer.
Age restriction
To be confirmed.
Running time
To be confirmed.
Performance dates
27 January – 4 March 2023
Content
This production features strong language and scenes of a violent and sexual nature. There is reference to violence in the home, homophobic violence, homophobic language and misgendering of characters.
Special notes
There will be post show discussions for ticket holders of the 19.30 performances on 16 and 17 February.
Access
There will be an Audio Described performance on Saturday 25 February at 14:30 and a Captioned performance on Tuesday 28 February at 19:30.