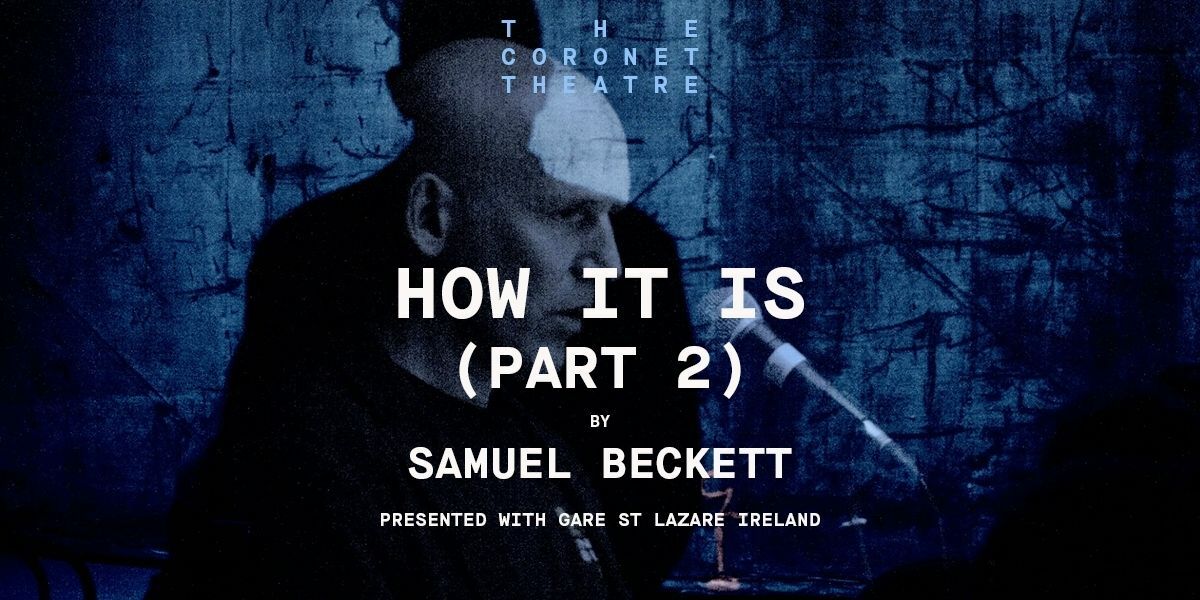 How It Is (Part Two) finally comes to the Coronet Theatre
Keep me updated
We'll tell you as soon as tickets go on sale:
'A high recommendation – it's a beautiful piece of work.' - Helen Meany (RTÉ Radio Ireland)
Director/designer Judy Hegarty Lovett with actors Stephen Dillane and Conor Lovett, and sound designer/composer Mel Mercier return to The Coronet Theatre joined by the Irish Gamelan Orchestra featuring soloists Nick Roth (saxophone) and Claudia Schwab (violin), with the UK premiere of the second tranche of Beckett's tripartite novel, How It Is, following the success of Part One in 2018.
How It Is (Part One) saw an unnamed narrator recount a journey in mud and darkness towards a fellow traveller, Pim, repeating his life as he heard it uttered by another voice. In Part Two he has joined Pim, and violence seems the only way to make sense of his bizarre predicament.
Gare St Lazare Ireland has an international reputation for excellence. For over 20 years, joint artistic directors Judy Hegarty Lovett and Conor Lovett have explored Samuel Beckett's work, paying particular attention to works not written for the stage. They continue their three-part adaptation of Beckett's masterpiece How It Is, engaging once more with The Coronet Theatre's auditorium and with the gleaming instruments of The Irish Gamelan Orchestra led by composer Mel Mercier and featuring soloists Nick Roth (saxophone) and Claudia Schwab (violin).
★★★★★ 'Gare St Lazare have certainly brought the wow factor to Beckett … (and) deserve to be congratulated, and cherished, for their uncompromising artistic vision.' - Irish Examiner
Age restriction
To be confirmed.
Running time
To be confirmed.
Performance dates
20 April - 7 May 2022
Special notes
Unreserved seating. Previews from 15 - 16 April. We strongly advise the wearing of face masks in the auditorium. All payments at the bar and throughout the venue will require cashless payment.
Customer
Reviews
1 reviews
5.0