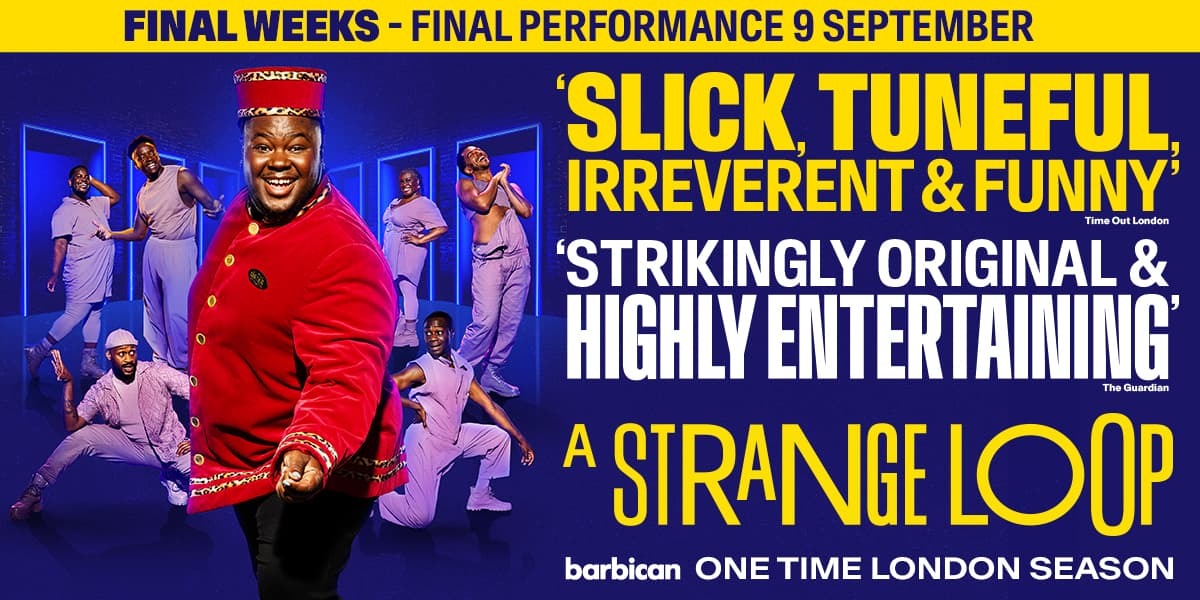 Meet Usher, a black queer writer, writing a musical about a black queer writer!
Keep me updated
We'll tell you as soon as tickets go on sale:
MEET USHER: A BLACK, QUEER WRITER WRITING A MUSICAL ABOUT A BLACK, QUEER WRITER WRITING A MUSICAL ABOUT A BLACK, QUEER WRITER…
A Strange Loop is the Winner of Every Best Musical award on Broadway and a Pulitzer Prize, and is now playing a one-time London season at the Barbican. This unmissable exploration of identity uses humour and honesty to explore themes around race and sexuality. Speaking to the heart and soul of every artist and individual who has ever felt like they don't quite fit in, this one-of-a-kind musical brims with toe-tapping beats, razor-sharp witty lyrics and an unforgettable score.
Age restriction
This production is recommended for ages 16+.
Running time
1 hour 40 minutes with no interval
Performance dates
17 June - 9 September 2023
Content
Some of the themes featured in A Strange Loop may be triggering to some audience members. We have outlined more information about the themes covered in the production along with support resources. Age guidance for the production is 16+. The production includes explicit language, references to racism, sexual assault, homophobia and scenes of an adult nature. The show uses strobe, flashing lights, haze, smoke and sudden loud noises. This performance includes references to: Racism Racial language Sexual assault Rape Homophobia Suicidal thoughts Domestic abuse HIV stigmatisation Depression
Access
There will be Audio described performances Tuesday 4 July at 8pm and Thursday 3 August at 2.30pm, Captioned Performances Wednesday 5 July at 8pm and Wednesday 9 August at 8pm and Saturday 22 July 2.30pm, and Signed performances Tuesday 11 July at 8pm and Thursday 17 August at 2.30pm. Touch Tour: Tuesday 4 July: 6:30pm – 7pm and Thursday 3 August: 1pm – 1.30pm.
Venue Information
Barbican
Silk Street, London, EC2Y 8DS